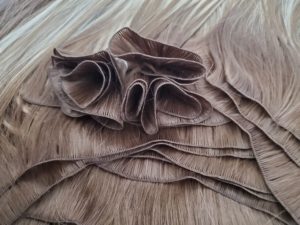 Premium Hand Tied Wefts are available to purchase for professionals only. Please login to your professional account to view prices and purchase. If you do not have a professional account:
Email: Info@keshhair.com   Call or text: +1-1877-331-4403
Kesh Hair's Premium Hand Tied Weft Extensions are made from our top quality Russian Hair with a life span of up to 2 years. Available length is 21-22″ (typically 21.5″). These wefts are sewn together by hand, making the weft portion of the hair much thinner than Machine Tied Wefts. When installed to the natural hair, Hand Tied Wefts lay flat against your scalp to provide a very lightweight feel and natural look. Hand-Tied Wefts should not be cut and should always be installed by a professional.
Weight of the hair per bag: 55 Grams
Length is 21-22″ (typically 21.5″)
Each bag has 3 x 11″ wide wefts
Each weft is approx. 18 grams
***Backordered items will ship in under 10 business days***