What makes Kesh Hair so special?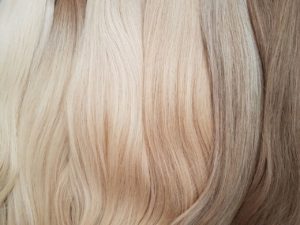 Russian standard is today's top standard of hair extensions. It is not a hair manufacturer or a brand, it is a type of hair that has come from a specific region, from one donor, with the cuticles in-tact and all hairs still aligned in their natural growth pattern (all cuticles going in the same direction AKA Remy Hair). Kesh NEVER uses an acid bath to color the hair, our hair is colored by hand so that the cuticle is not damaged and the hair stays smooth and strong. We also do not use any Silicon on our hair, so your hair will feel the same from the first wash to the very last.
Non-Remy hair is taken from different donors and therefore contains hairs that are going in all different directions, which may get tangled and matted, especially in the long lengths.
Tips on buying hair
Remember that prices of hair vary greatly depending of the quality of hair that you are buying. For example, acid washed non-Remy hair will be considerably less expensive than Remy Russian standard hair. Be aware of what you are buying and remember that all hair is priced accordingly. If the price seems too good to be true, then it probably is. Move on.