Need help picking a color?
Check out our photo gallery of installed hair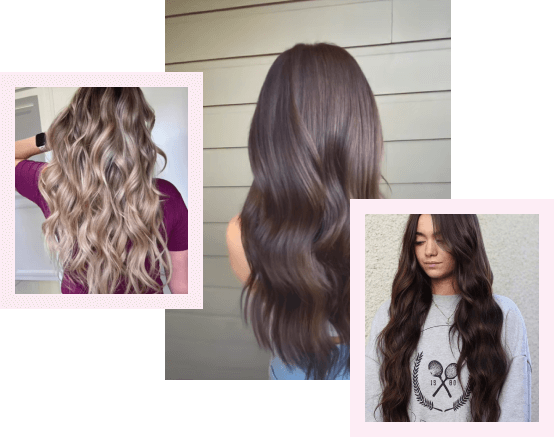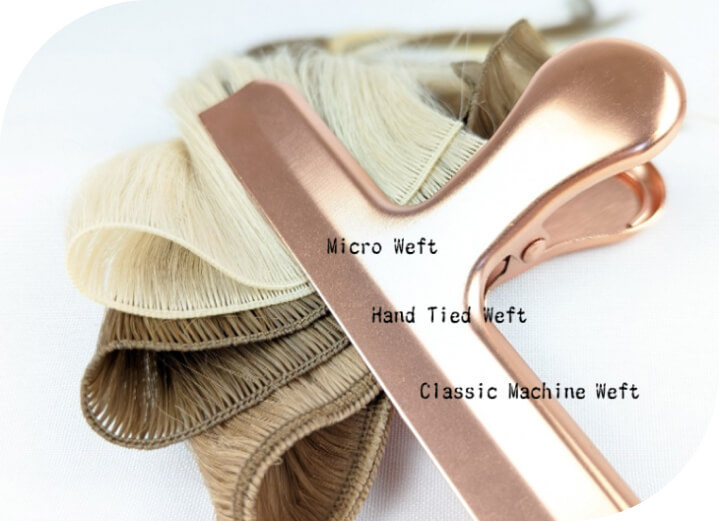 Our smallest and most versitile sew in weft. Micro Wefts are smaller than Hand Tied Wefts, have no return hair (moustache), and they can be cut! Gone are the days when you have to worry about your wefts unraveling… 
Hand Tied Wefts are tied by hand and are very delicate. They can lay extremely flat and appear almost undetectable! As they are made by hand, they CANNOT be cut on the seam or they will unravel and shed. You can stack up to 4-6 on one row and are compatible will all hair types! Hand Tied Wefts do have a small mustache of return hair under the seam that can be trimmed. 
Our Machine Wefts are sewn by a machine so the seam is thicker and has a "mustache" of return hair under the seam. These hairs can be trimmed if desired! Machine wefts can be doubled, sometimes tripled if the natural hair can handle the weight. They are ideal for medium to thick hair, very versatile and CAN be cut on the weft. 
Handtied Weft VS. Micro Weft 
Both weft types are great lightweight options for you and your clients but are structured differently: 
Hand Tied – 3 x 11″ wide wefts (weft cannot be cut)
Micro – 1 x 33″ wide weft (weft can be cut)
Hand Tied – 1.27mm thick / 1.78mm tall
Micro – 0.75mm thick / 1.68mm tall
Hand Tied & Micro – 22″ long
Hand Tied – available in single wefts
Micro – cannot color the weft line
Hand Tied – can color the weft line
Micro – has no return hair (aka moustache)
Hand Tied – has return hair (aka moustache)
Micro – 0% chance of unraveling
Hand Tied – will unravel if cut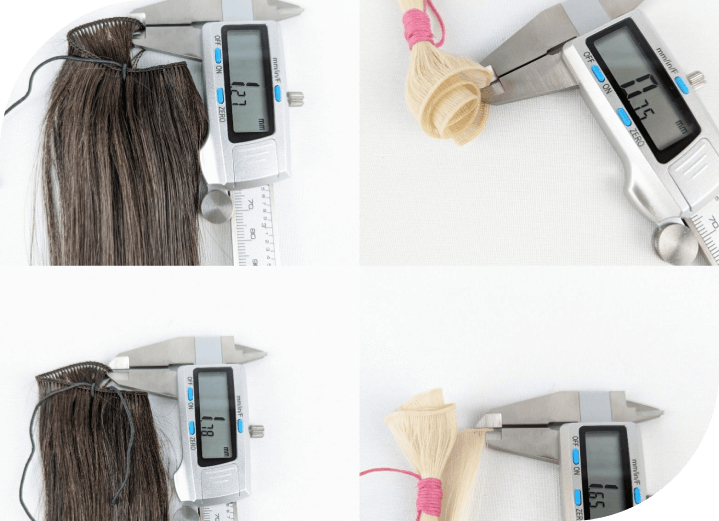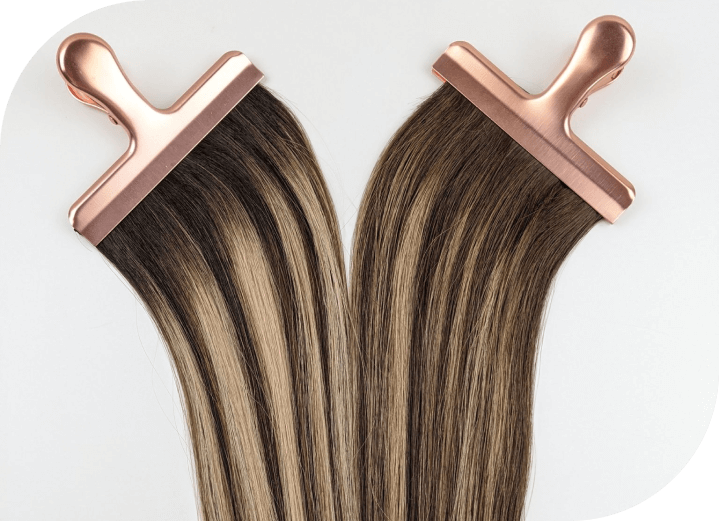 Our hair is made using high quality Slavic hair bundles. We retain full cuticle and NEVER use an acid bath during the manufacturing process. Kesh does not use any silicon on our hair, therefore it will maintain it's smoothness and shine wash after wash. All our hair is ethically sourced and single donor (ponytail cut from 1 person and not mixed).
Lasts 9 months to 1 year with proper care
Full cuticle
Ultra smooth and always tangle free
Extensive range of colors to choose from
Fully double drawn  
Available in Hand Tied Wefts, Micro Wefts, Tape Hair, Classic Machine Wefts, & K-Tip Fusion Hair